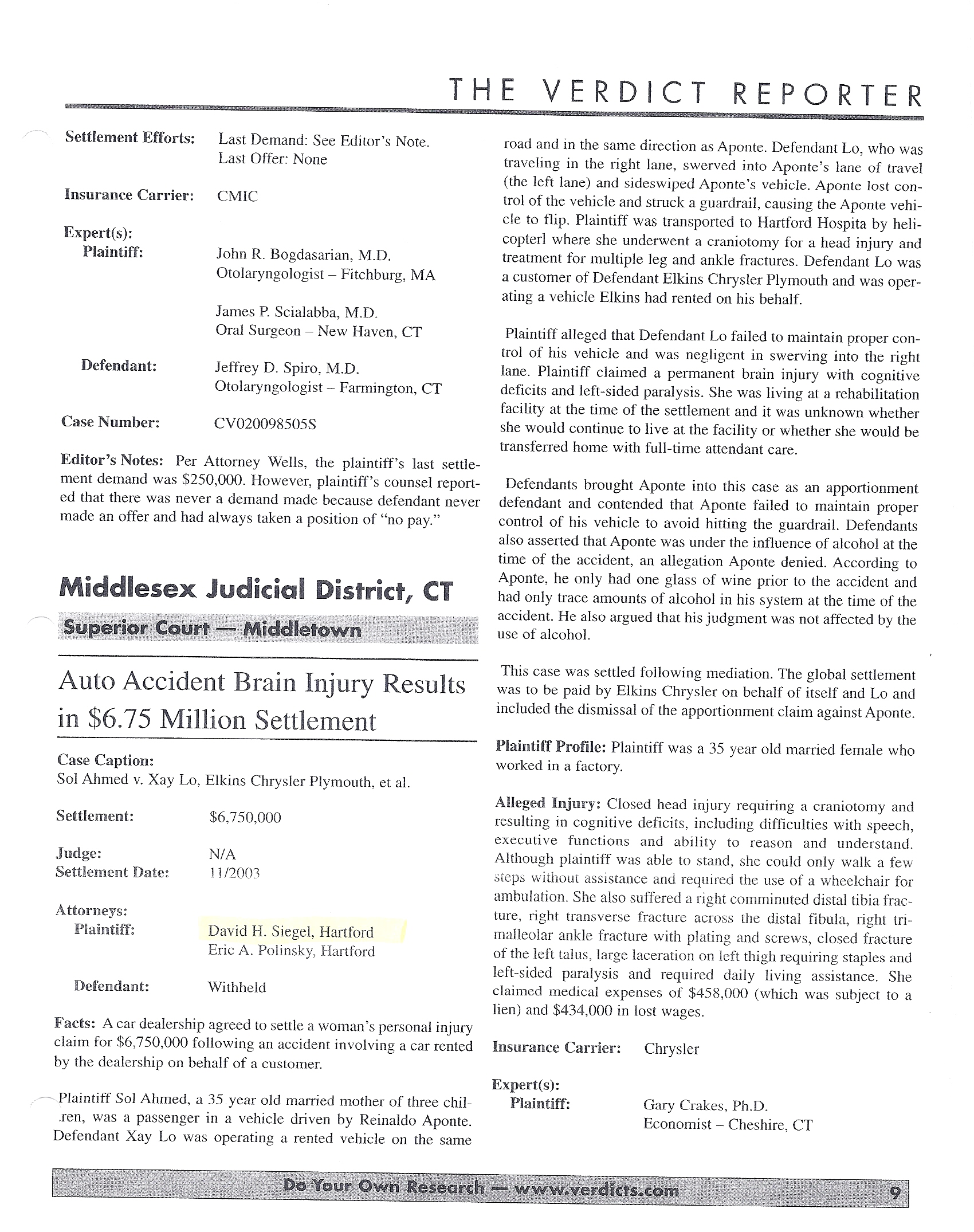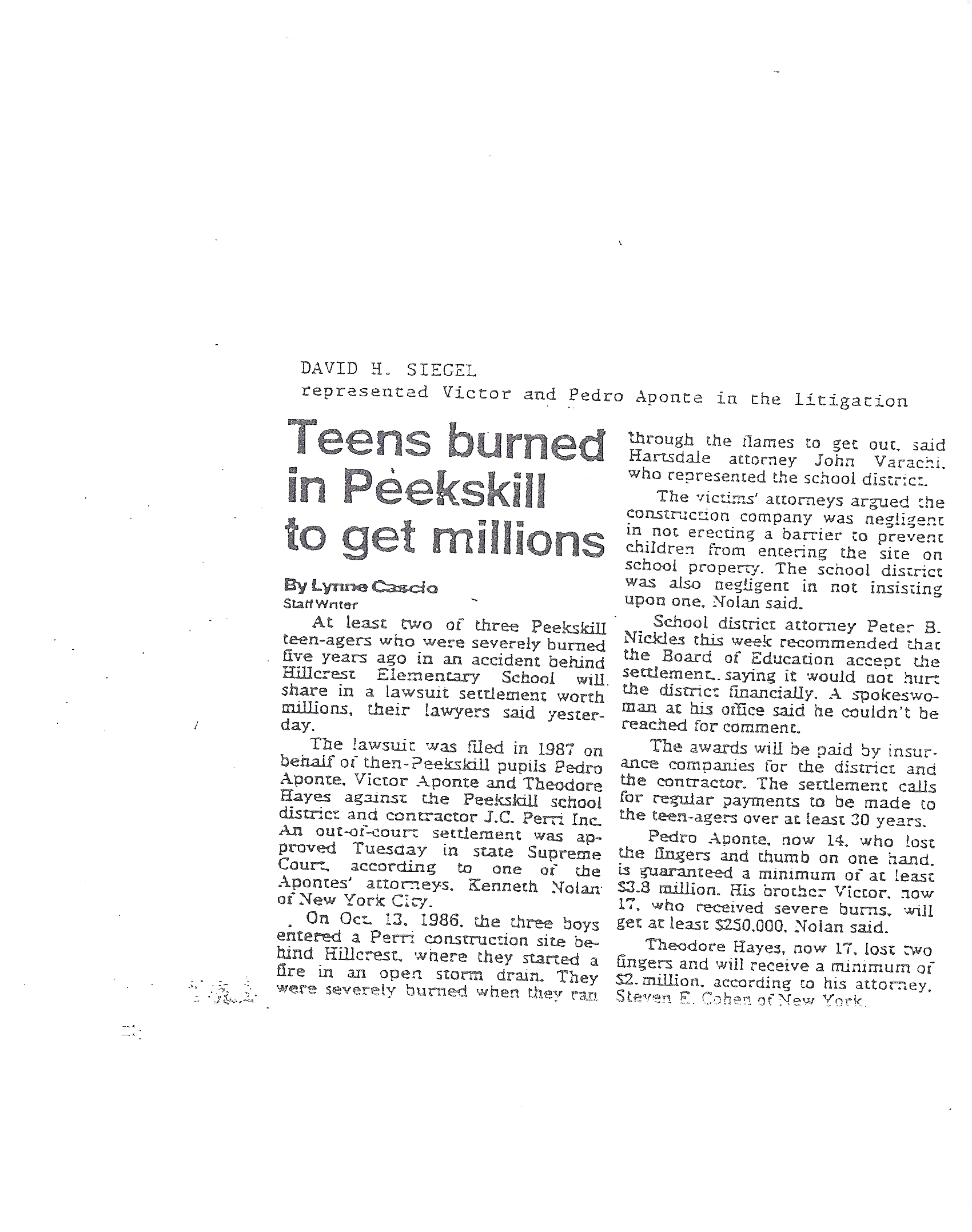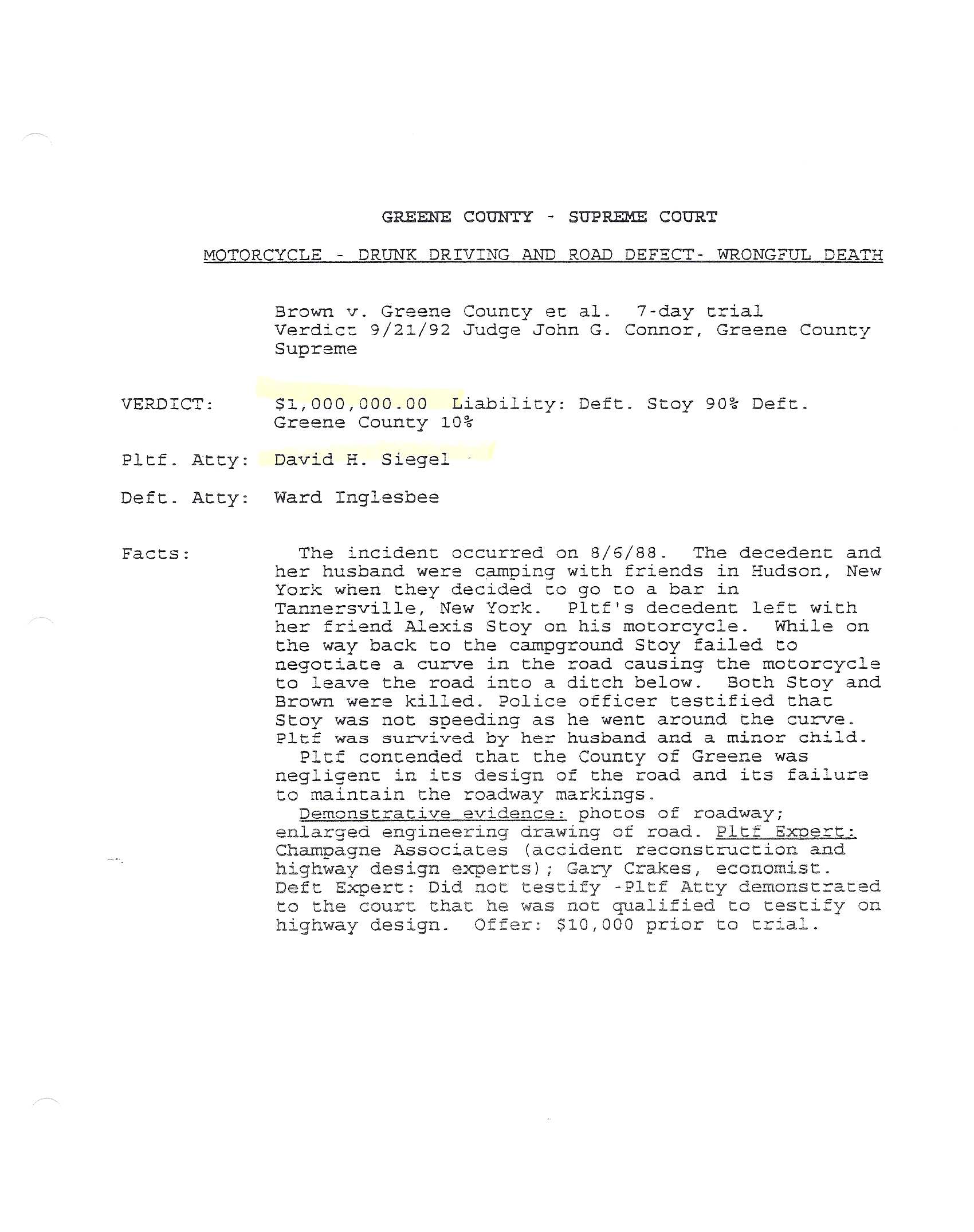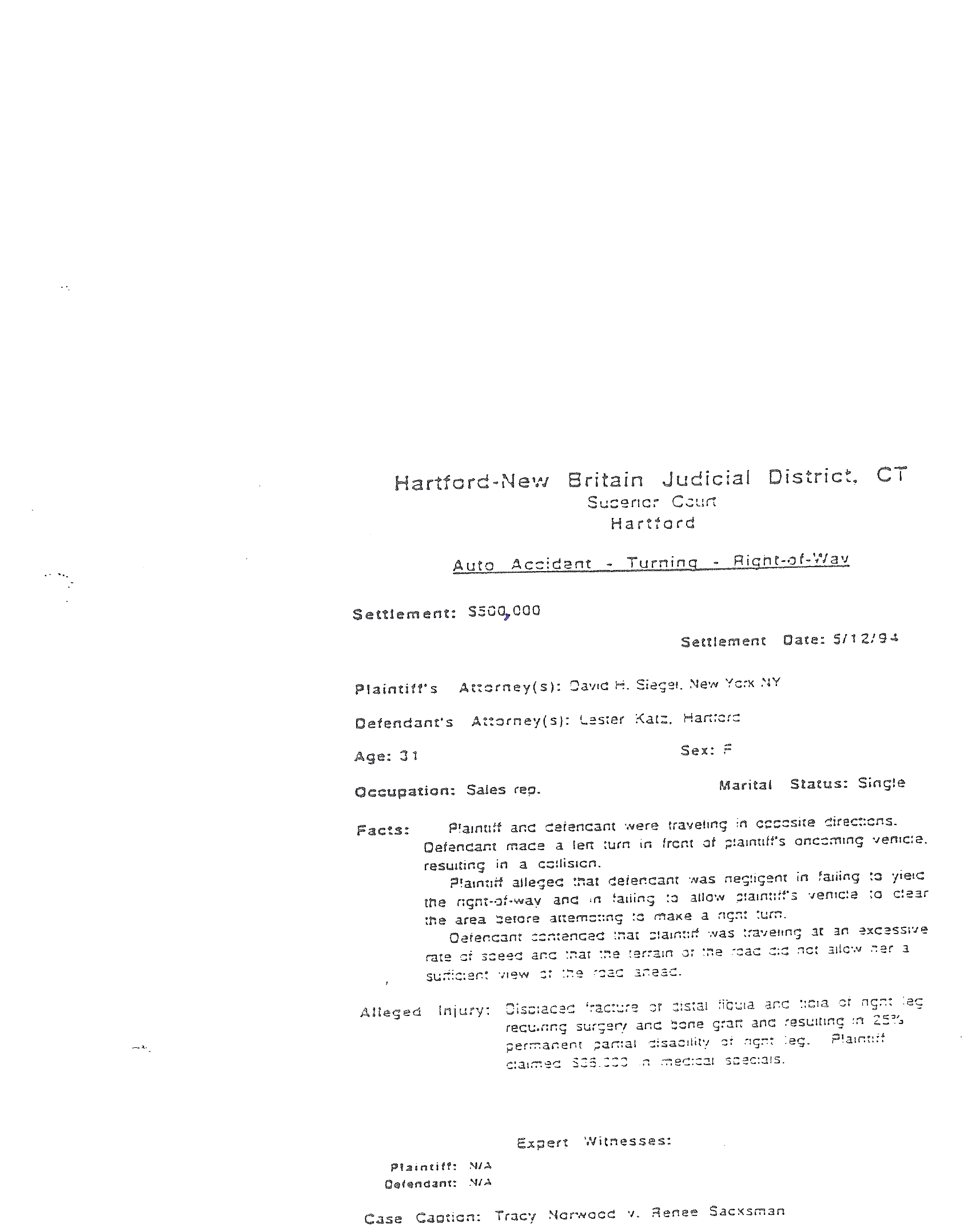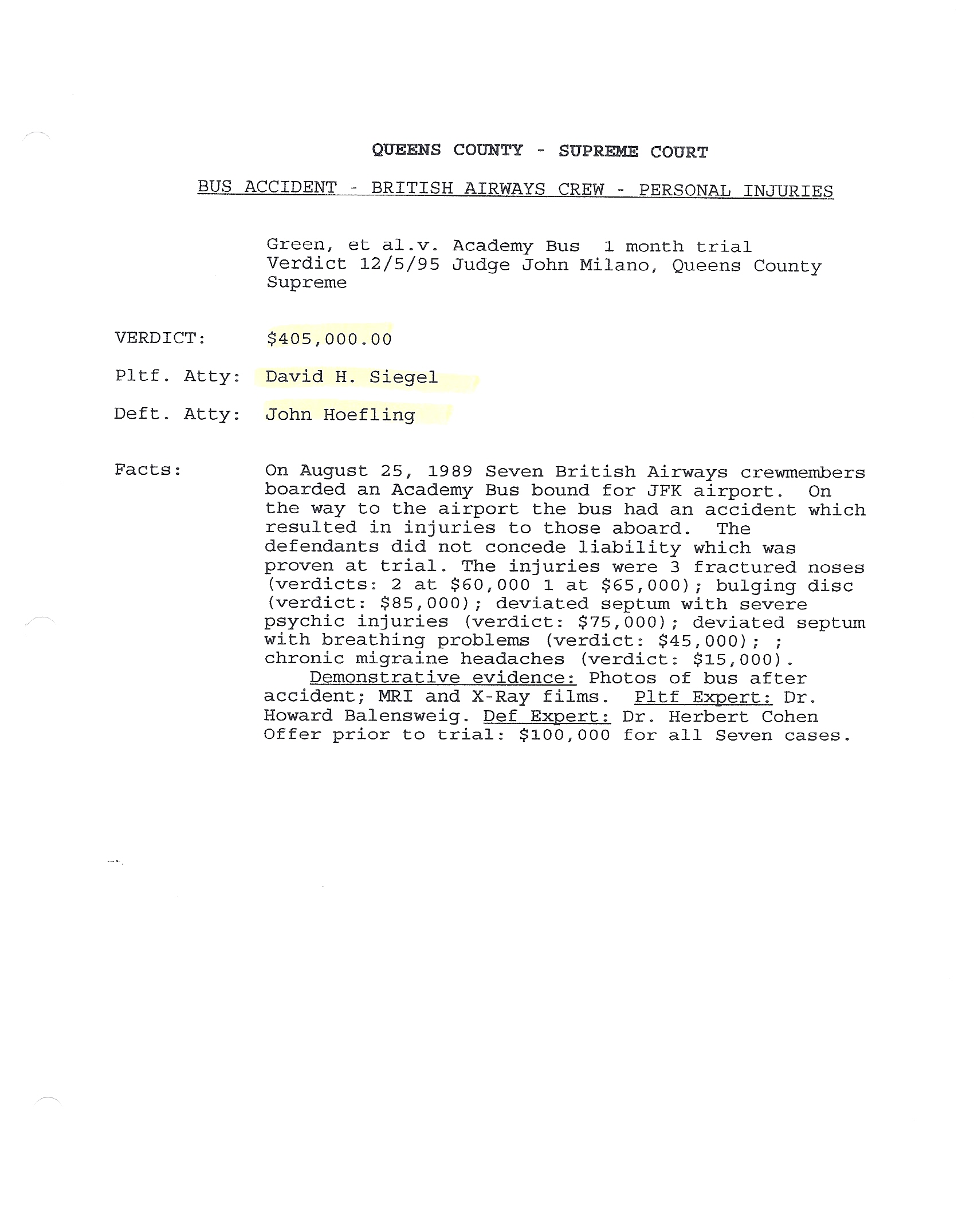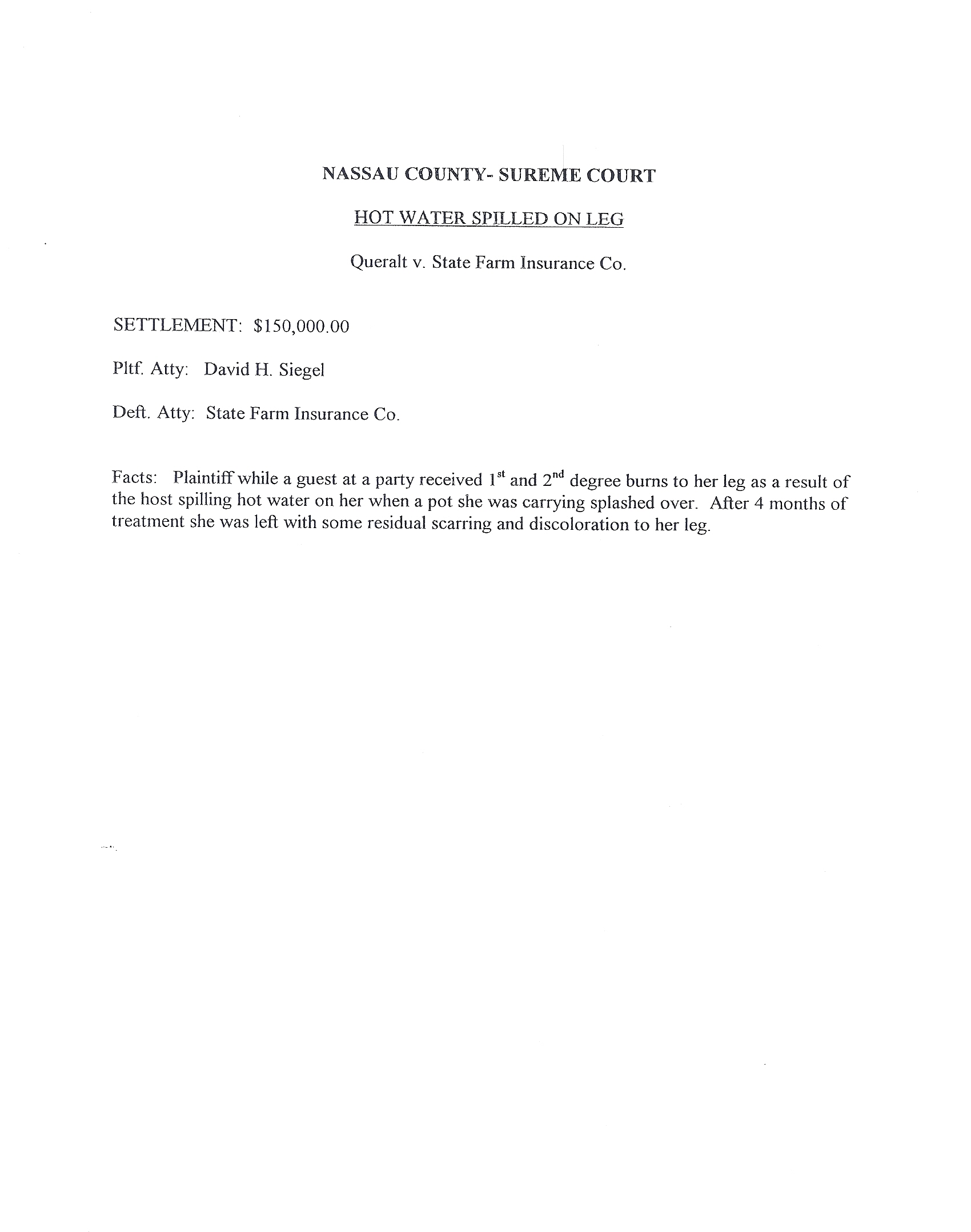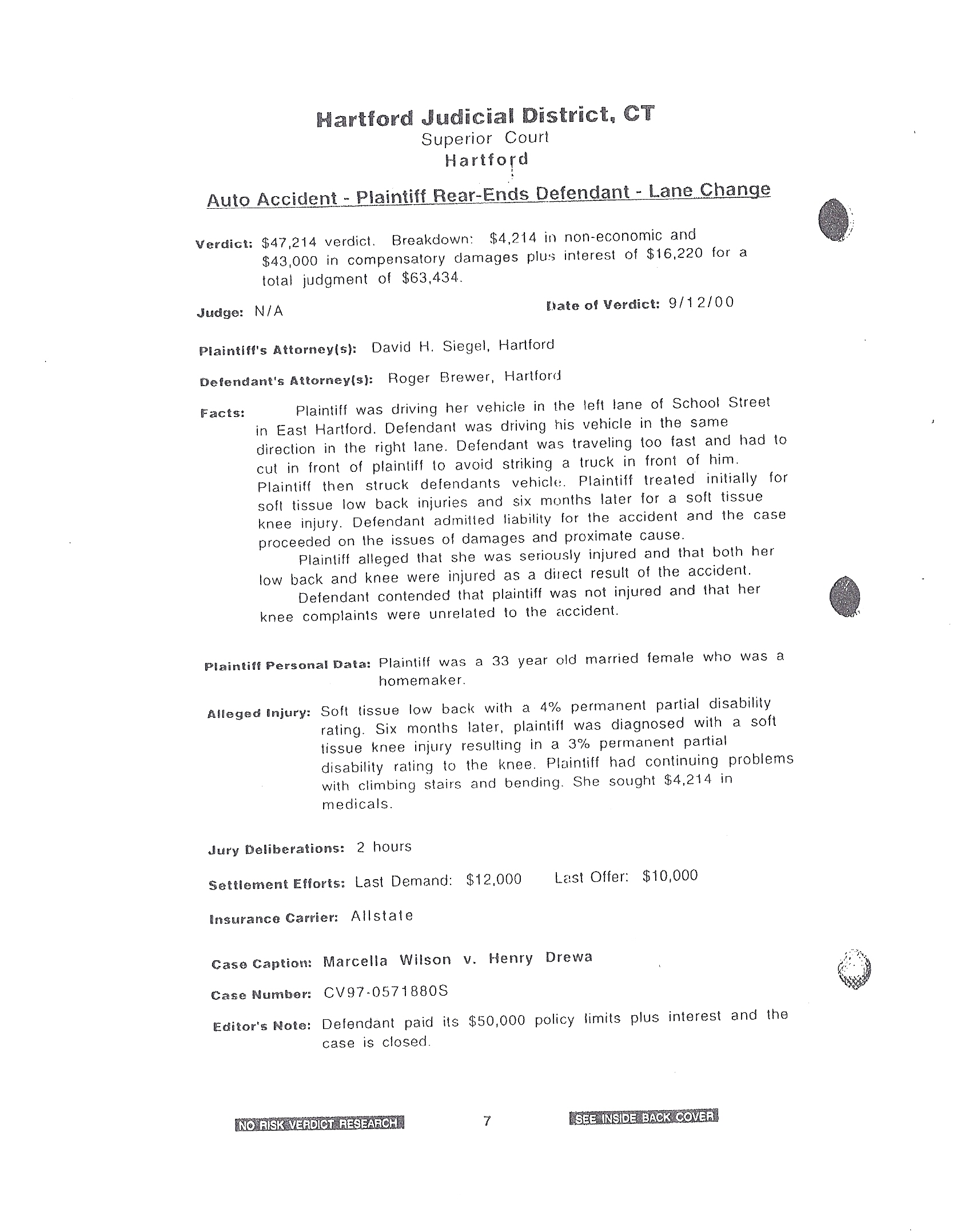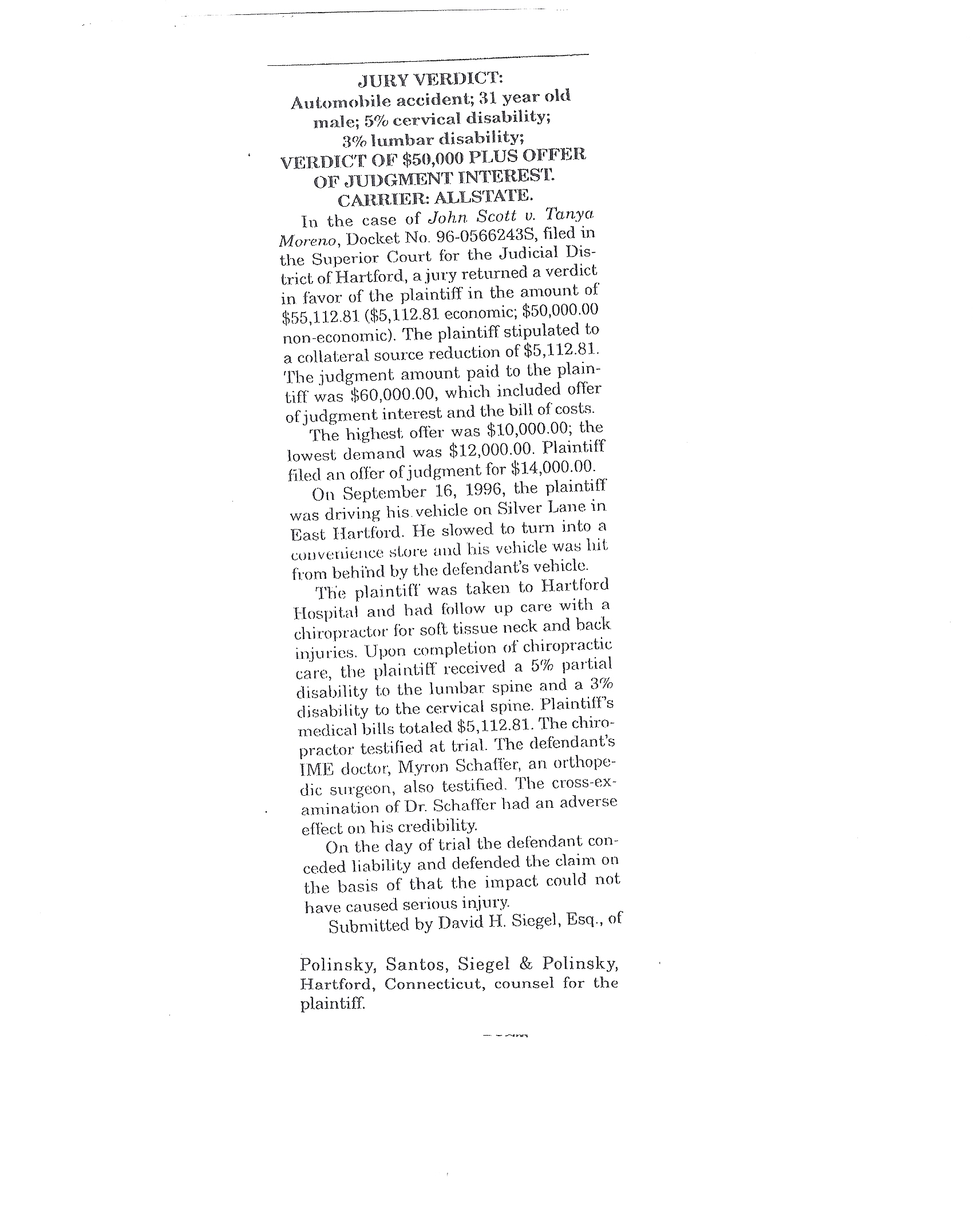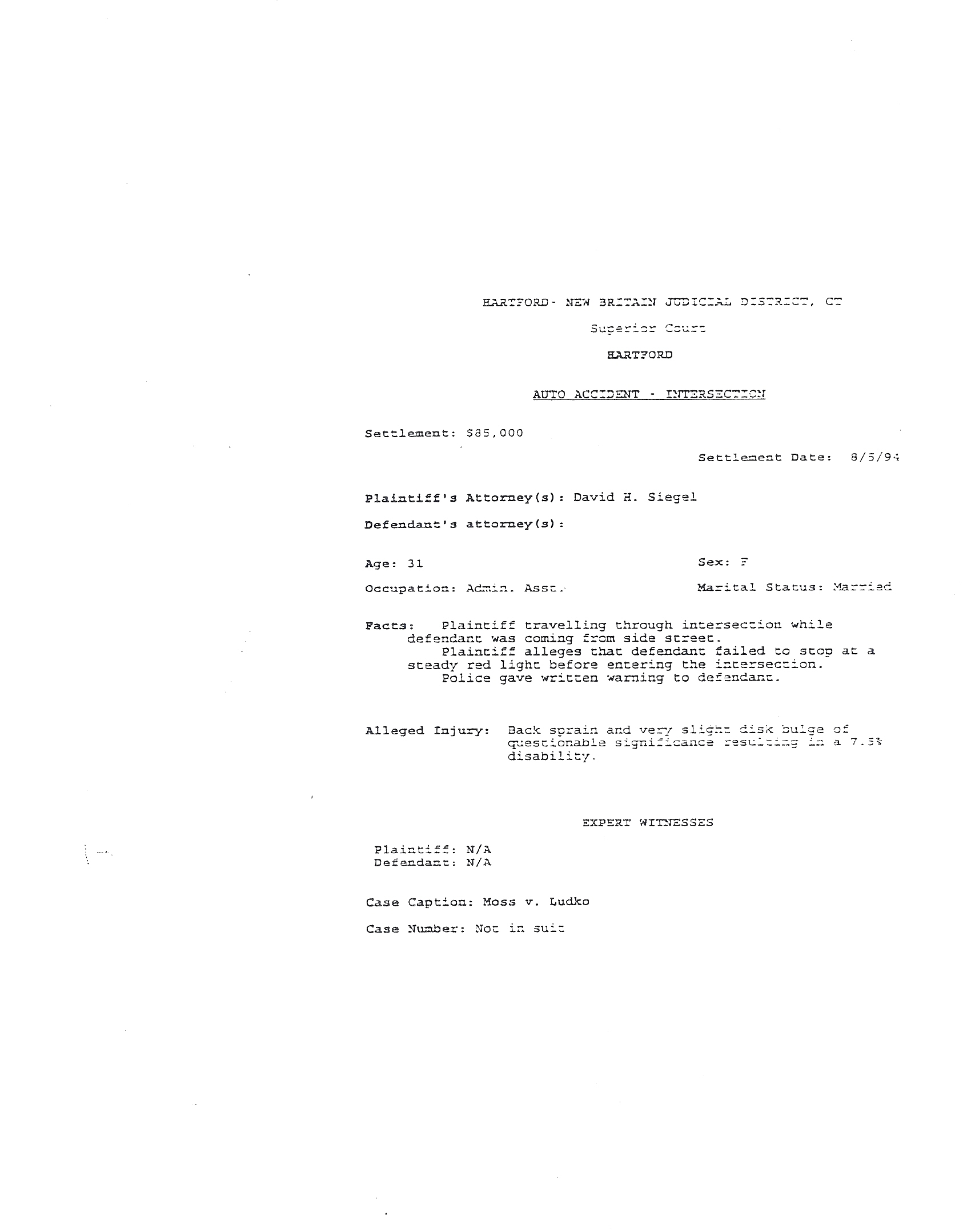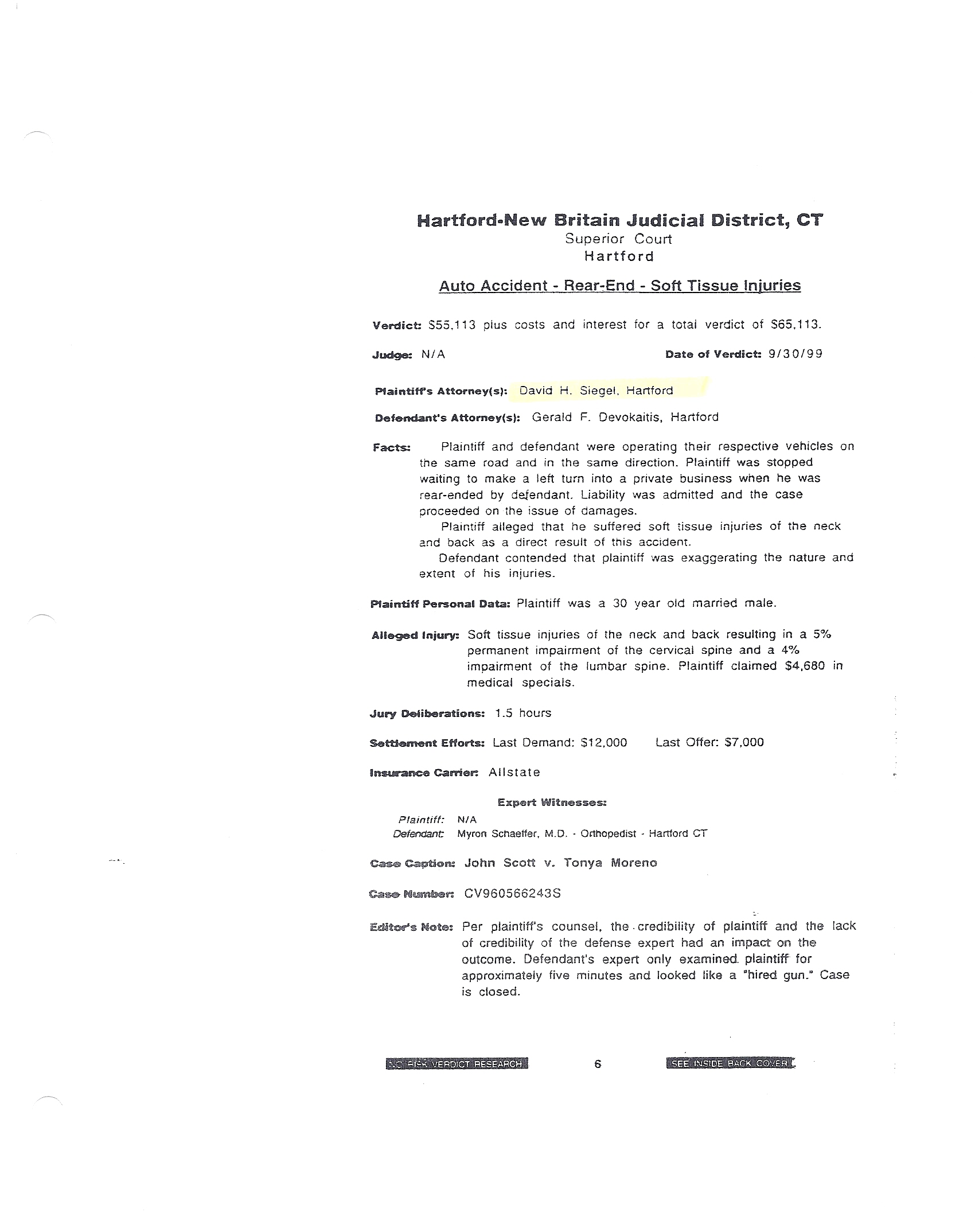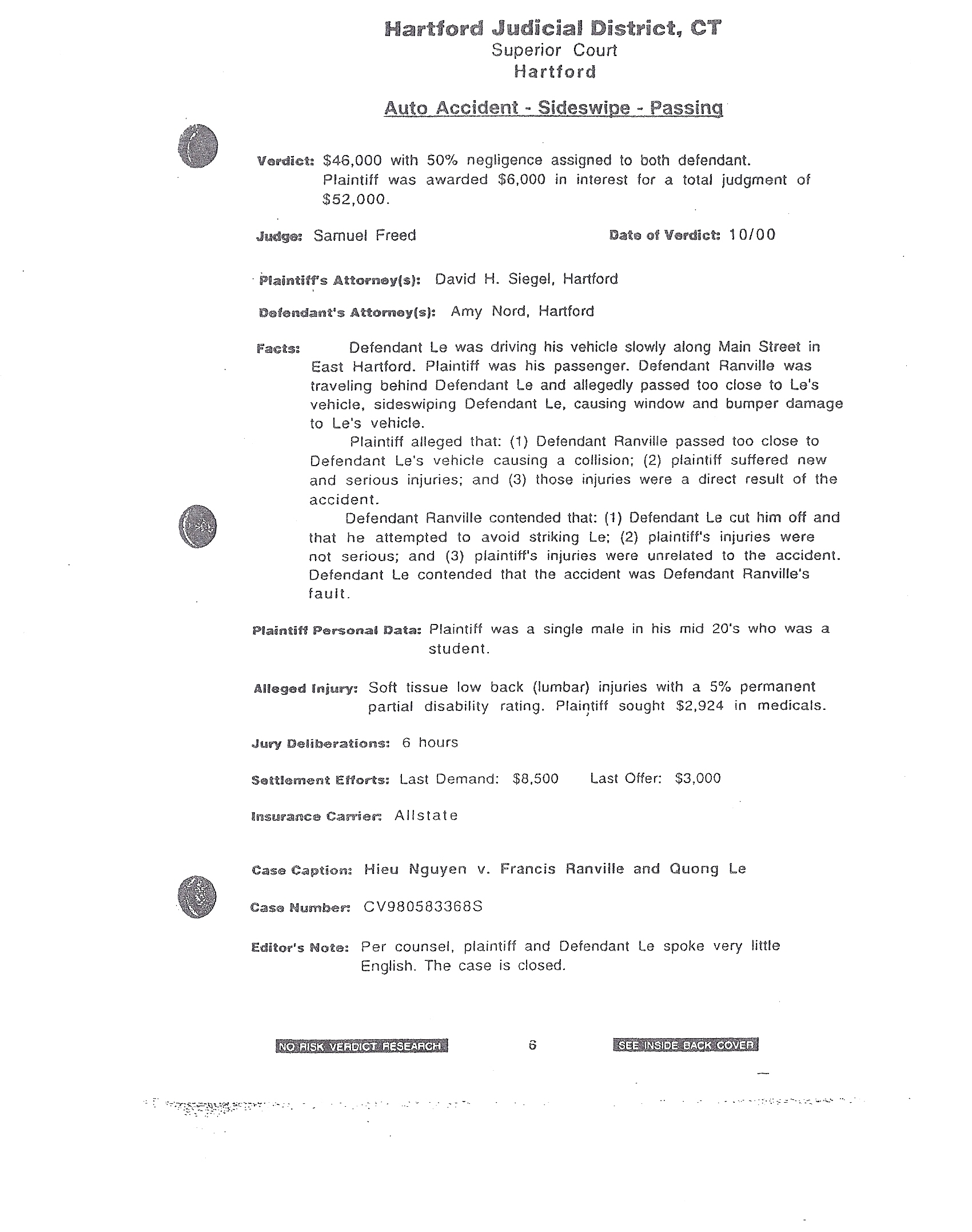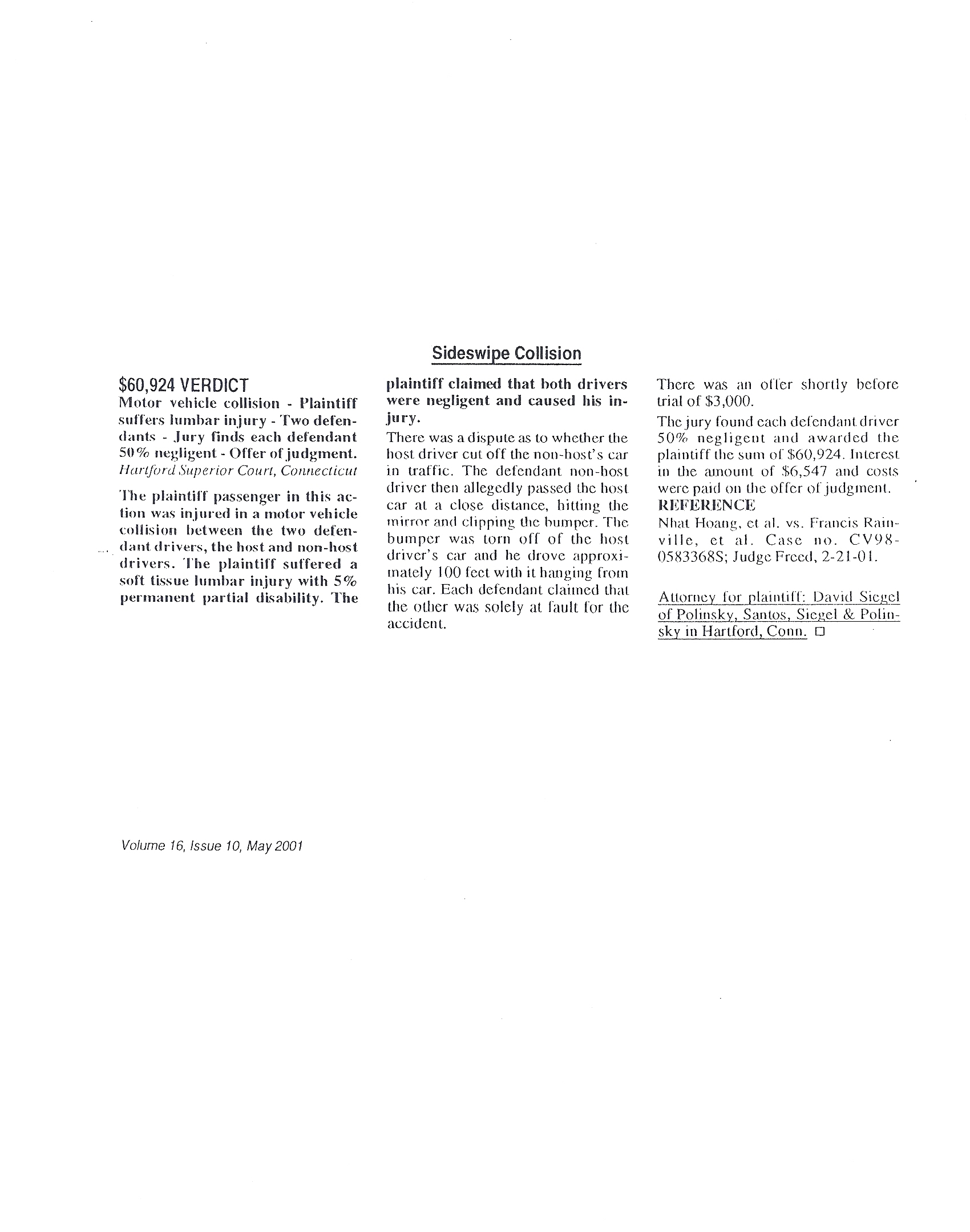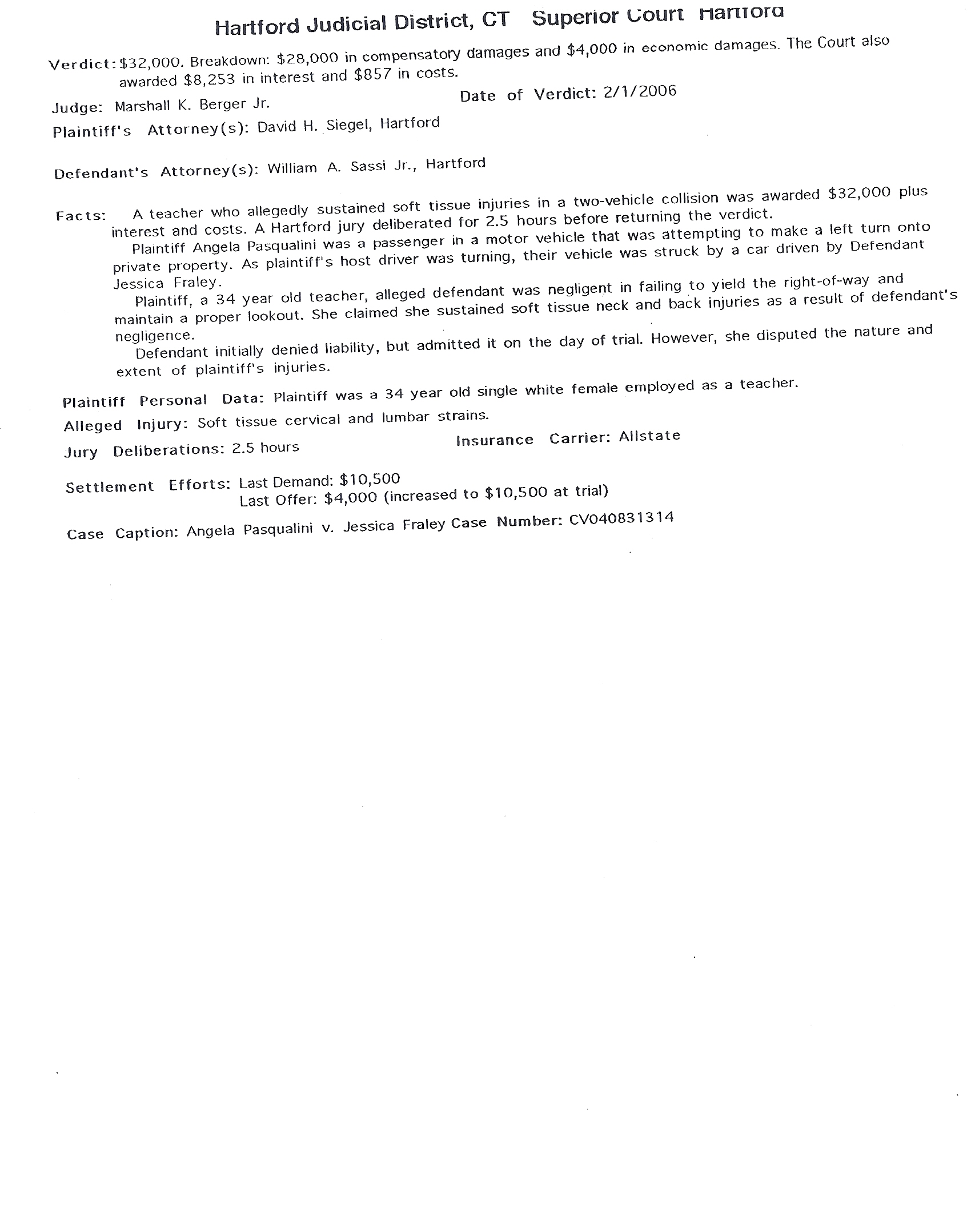 Hartford Judicial District, CT
Superior Court
Hartford

Auto Accident-Rear End Collision





Settlement:

$175,000.00

Date: November 2011

Judge: N/A

Plaintiff's Attorney: David H. Siegel, West Hartford

Defendant's Attorney: N/A

Facts: Plaintiff was slowing her vehicle for traffic when the defendant hit the
rear of her car.

Injury Claimed: Cervical injury with surgery. 8% disability.

Case Caption: Seegobin v. Pine CV09-5034276-S


Hartford Judicial District, CT
Superior Court
Hartford

Auto Accident-Sideswipe


Settlement:

$200,000.00

Date: November 2011

Judge: N/A

Plaintiff's Attorney: David H. Siegel, West Hartford

Defendant's Attorney: N/A

Facts: Plaintiff was operating her car when the defendant turned into her lane of travel.
​
Injury Claimed: Lumbar l injury with surgery.

Case Caption: Leone v. Barney CV09-5032484-S


Motor Vehicle Accident - Settlement
16 year old female - Hip and Shoulder Injuries
Arthroscopic Surgery
Attorney Siegel represented a 16 year old girl who was a passenger in a vehicle driven by one of her friends. As the car was traveling down a curved mountain road in Newington, Connecticut, the driver, who was traveling too fast on this road, crossed over into the opposite lane of travel, thereby causing a head-on collision with another vehicle. Our client received injuries to her shoulder and hip which required arthroscopic surgery. A law suit was commenced against the driver of the vehicle. Prior to Trial, the case was submitted to Mediation. After a day-long Mediation,
​S
ettlement was reached for the sum of $365,000.00.
BICYCLIST HIT BY CAR AUGUST 2012
KNEE INJURY WITH SURGERY

Plaintiff was riding his bike in a crosswalk when the Defendant turned his car into the Plaintiff's path of travel causing him to take evasive action​​​​. As a result the Plaintiff fell from the bike injuring his knee.

After mediation the case was settled for $90,000.00​​
MOPED HIT BY CAR SEPTEMBER 2012
SHOULDER INJURY

A 17 year old male was driving a moped on a city street when the Defendant failed to stop at a stop sign hitting the moped. The Plaintiff was ejected and suffered an oribital fracture, concussion and a shoulder injury with scarring.

The claim was settled for $278,000.00​​​​​
REAR END COLLISION JUNE 2013
SETTLED $294,000.00

A Male driver was hit in the rear and suffered lower back injuries. Surgery was performed for a herniated disc. The claim was settled without having to file a lawsuit.​​​

REAR END COLLISION APRIL 2014
SETTLED $100,000

A female driver was stopped at a red light and hit from behind. Neck and shoulder injuries. The insurance company refused to pay the $100,000 policy limits and a lawsuit was started. ​​During the litigation the insurance company relented and paid the policy.
IMPROPER LANE CHANGE MAY 2014
SETTLED $100,000
A female was driving on two lane road when another car changing lanes hit her on the drivers side. Neck injury with surgery​​​. Insurance company refused to pay $100,000 policy limit blaming the injuries on 3 prior car accidents. After strenuous litigation and Attorney Siegel obtaining from the treating surgeon a note indicating that it was not the prior accidents which necessitated the surgery the case settled for the $100,000 policy.
Hartford Judicial District, CT.
Superior Court
Hartford

Laceration Opening Window




SETTLEMENT: $225,000.00

September 2014

Facts: Plaintiff lived in an apartment building which had windows that would not open since they were painted shut. Plaintiff advised the landlord of this condition however they never corrected the problem. On a warm June day Plaintiff attempted to open the window herself and the window shattered causing an injury to her left thumb.

Injuries: Deep laceration to the left thumb requiring 2 surgeries and extensive physical therapy.

Case Caption: Garcia v. Konover Residential HHD-CV12-6030476-S


MOTORCYCLE ACCIDENT
​OCTOBER 2015

SETTLEMENT $82,500.00​​

Facts​: Another vehicle cut Mr. LaJoy off while he was riding his motorcycle. He received an injury to his arm​ but no surgery was required. Full policy paid by responsible party and the balance was paid by Mr. LaJoy's own insurance company.
MOTOR VEHICLE COLLISION
NOVEMBER 2015
SETTLEMENT: 98,000​​.00
Facts: While plaintiff was making a right turn the defendant failed to stop at a stop sign and impacted plaintiff's vehicle. Defendant died unrelated to the accident and an administrator was appointed by the court to allow a lawsuit to be filed.
Injuries: ​​​​Back injury soft tissue. Treating physician could not diagnose why plaintiff was having pain radiating from her back to her leg as all testing was negative. Surgery was not recommended for her injuries. After a day long mediation the case was settled with defendant's insurance company Allstate.
PEDESTRIAN HIT BY CAR
MARCH 2016
SETTLEMENT: $350,000.00
Facts: Plaintiff was walking to her car from ​​a Home Depot when the defendant while pulling into a parking space hit the plaintiff from behind.

Injuries: Fracture of the left ankle requiring surgery and insertion of hardware. A lawsuit was filed and the case was settled at mediation with the defendant's insurance carrier Met Life.​​​​​
UNISURED DUMP TRUCK DEMOLISHES CAR
APRIL 2016
SETTLEMENT: $100,000.00​​​​
Facts: A dump truck which was not insured hit the plaintiff in the rear causing serious personal injuries. Attorney Siegel commenced an action against the uninsured trucking company to freeze any assets it had. No assets were found and the claim was settled with the plaintiff's own insurance company.​​
SLIP AND FALL

MAY 2017

SETTLEMENT: $87,500.00​​

Facts: Client tripped in a pothole on a road leading to a parking lot.

Injuries: ​Severely sprained ankle with resulting blood clot.


TRUCK HITS BRIDGE

OCTOBER 2017

SETTLEMENT: $252,500.00

Facts: Truck attempted to go under bridge but was too high causing debris from the tru​ck to be scattered all over the highway.​ Client attempted to avoid debris and was hit by another car in the rear. Injury ocurred to both driver and her passenger. Both the trucking company and the insurance company for the car which hit client in the rear contributed to the settlement.

Injuries:​​​ Driver: Neck and back sprain
Passenger: ​ Bleed to the brain which cleared up with no after effects
​​
​​​​​
MOTOR VEHICLE COLLISION October 2018
SETTLEMENT $100,000
Plaintiff was ​​​​​hit in the rear. The case was complicated in that only nine days before she was in another rear end collision. In the second accident she injured her shoulder requiring athroscopic surgery. The insurance company argued that the first collision caused the injury. After litigation the case was settled by Liberty Mutual.

​​